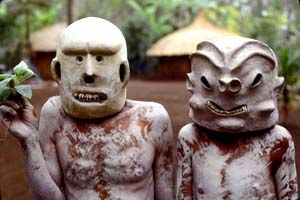 The Mandarins
Newly elected politicians enter Parliament with only the most basic understanding of New Zealand's state superannuation system. Even after many years in office most Members of Parliament fail to acquire a thorough understanding of NZ Super. When required to make public statements or respond to searching questions on NZ Super, even the most seasoned politicians admit that they need to consult with their officials before formulating replies.
In addition to their responsibilities as electorate MPs, cabinet ministers invariably have several portfolios which puts them are under a great deal of pressure. Ministers holding Social Development and Senior Citizens portfolios simply do not have the time to acquire a comprehensive understanding of the complexities of NZ Super. They are therefore heavily reliant on experienced Ministry of Social Development (MSD) officials.
These behind-the-scenes officials with many years of experience - the "mandarins" - not only inform and advise their ministers but handle their public statements as well as the bulk of their correspondence, preparing and signing letters in the minister's name. The mandarins' identities are protected, they are secure in their jobs as civil servants, they cannot be replaced at the next election - they are faceless.
A constituent who had been lobbying for 9 years for pension reforms received a surprising letter (5/11/2008), from his MP, former Senior Party Whip Tim Barnett, basically saying that he had been wasting his time lobbying cabinet ministers for reforms, but that he should have directed his lobbying efforts to the MSD officials who handle the ministers' affairs. Mr Barnett added,
"Inevitably, ministerial correspondence is significantly influenced by advice from relevant officials, who often last longer in their positions than do ministers."
There is the impression that it is these officials, not cabinet ministers, who are the ultimate authority on pension matters, an authority not to be questioned. They have repeatedly shown that they have no sympathy for migrants or those New Zealanders who have had the "advantage" of working overseas.
First replies to NZ Super complaints, though superficially courteous, tend to be evasive, misleading and dismissive. Anyone writing a second time to point out, "You didn't answer my question", or, "Your reply was incorrect", receives a less than cordial, curt or even abrasive response. Those who continue to question are then bluntly informed that the minister regards the correspondence as closed.
A North Island pensioner wrote to the Minister for Social Development to inquire as to the number of complaints relating to pension injustices that his office had received over the past 6 years. After an interchange of letters, the pensioner was finally told that the information would only be made available if he paid for it. A "special discounted price" was offered - equivalent to the pensioner's entire NZ Super payments for the next 5 years.
(Shortly afterwards, the Ministry made information available from which it could be established that in the first six years the minister's office had received upwards of 20,000 complaints concerning NZ Super - a sizeable number of unhappy people).
Although ministers must always bear the responsibility for any letters sent out in their name, some of the correspondence prepared by mandarins has, at times, been so far from the truth that it undermines a minister's credibility. For example, there were countless prepared statements from former Finance Minister Dr Cullen claiming that New Zealand adhered to principles of sharing pension costs with other nations - when, of course, the facts tell a very different story. More than once, mandarins have made their ministers look foolish - without, it appears, ever being held to account.
Mandarins also formulate ministers' responses in those rare instances when the news media raises questions regarding NZ Super injustices. Their media statements have been misleading and on occasion patently false. Replying to questions from The New Zealand Herald, the office of Hon Steve Maharey claimed that a recent OECD survey had rated New Zealand as having, amongst developed nations, the finest retirement scheme in the world. Although the OECD survey had, in fact, rated New Zealand (along with Ireland) as having the worst retirement program amongst developed nations, the newspaper printed this statement verbatim.
One superannuitant wrote to MSD questioning the ability of David Benson-Pope to send out authoritative letters on social security matters only days after replacing Mr Maharey as Minister for Social Development, pointing out that the new minister's viewpoint and wording were not only identical to Mr Maharey's, but exactly the same viewpoint and wording of Roger Sowry, Minister for Social Development in the National Government a decade previously. It would have made no difference, the writer pointed out, if Helen Clark had appointed Joe Bloggs as minister.
The Ministry's chief executive Peter Hughes wrote in reply,
"You have remarked on the similarity between responses you have received from different ministers on the same issue over the years. The explanation for this is that, in relation to policy, there will only ever be one agreed government position. Thus policy is constant and will not change..."
The chief executive provides ample confirmation that, with respect to superannuation, it is impossible to tell a National-led Government from a Labour-led Government.
Given that the mandarins made it next to impossible for the public and the Ombudsman to obtain copies of the reports in the Review of NZ Superannuation Portability and that they prepared Ms Dyson's "Review" in 2008, falsifying facts and denying that there were any problems with NZ Super, Peter Hughes statement raises a profoundly disturbing question:
Are the nation's retirement polices not the preserve of our elected representatives after all - but that of senior civil servants?
A Serious Allegation
Under a Supply and Confidence Agreement with NZ First which gave the Labour Government a third term in office, the two parties pledged to work together to fulfill the campaign promise of NZ First, namely to improve the options for pensioners in receipt of an overseas pension, and to secure a Social Security Agreement with the United States.
In a letter to a constituent half way into the third term, NZ First Deputy Leader Peter Brown disclosed that officials had, so far, prevented him from obtaining any meetings with Social Development Minister Benson-Pope. Furthermore, there could not be a Social Security Agreement with the US as officials had informed him that American authorities were opposed to any form of agreement with New Zealand.
This gross misinformation was relayed to the highest level of the Social Security Administration who replied immediately confirming that the US was not opposed to an agreement with New Zealand, inferring that the problem lay with Ministry of Social Development officials (the Administration's letter is printed on this website, refer: Letter from the Social Security Administration).
Our elected representatives and diplomats are responsible for New Zealand's international treaties and agreements. It is unthinkable that public servants would attempt to sabotage the formation of an important international agreement - but this is exactly what they tried to do. Mr Brown refused to reveal the names of the officials who had lied to him, saying that he would deal with the matter personally.
Who were the officials responsible? They could not have been officials at the US Embassy (witness the Administration letter), nor officials from the Ministry of Foreign Affairs. For information on international social security, a politician would have to approach the Ministry of Social Development. With no firm evidence in hand, NZ Pension Abuse can only ask "Who else but mandarins would have been responsible?" Unable to fulfill their pledges to their supporters, Mr Brown and the NZ First Party lost their parliamentary seats at the last election. Not so the mandarins, who now advise, inform and guide Minister for Senior Citizens John Carter on all superannuation matters.
MSD officials known as 'mandarins' handle ministers' correspondence and statements on NZ Super matters.
---
Mandarins, not cabinet ministers, appear to be the ultimate authority on NZ Super, an authority not to be questioned.
---
Mandarins advise a pensioner that he must pay 5 years of his NZ Super in return for information relating to pension complaints.
---
Some mandarin prepared correspondence has been so false as to undermine a minister's credibility.
---
MSD chief executive: "there will only ever be one agreed government position. Thus policy is constant and will not change."
---
"Officials" attempted to scuttle social security negotiations with the US: were the mandarins responsible?
© 2013 NZPENSIONABUSE.ORG