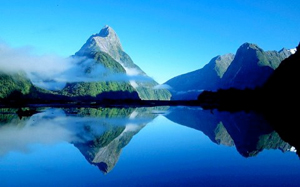 Welcome to the NZ Pension Abuse website
With stunning natural beauty, a clean and peaceful environment - and the promise of a full state pension on fulfilling a mere ten-year's residency - New Zealand might seem the ideal place to live. Do not be deceived! A very nasty surprise lies in wait for immigrants and New Zealanders who have worked overseas when they reach retirement.
New Zealand was one of the first countries in the world to provide a universal state pension for its citizens. Over time, bureaucrats and politicians have tampered with the system to the extent that, today, one in every four Kiwis discovers that the "Universal Pension" is a false promise.
All New Zealand residents pay for the Universal Pension, known as "NZ Super" through general taxation.
However, immigrants and New Zealanders who have put money aside in overseas government-administered retirement schemes before coming, or coming back, to New Zealand are forced to surrender those retirement savings to the NZ Government in return for NZ Super - thereby paying twice for a state pension.
This website outlines the impossible task elderly people face in obtaining justice; it highlights the mechanisms in place to prevent challenges to the government on pension discrimination and how every avenue of appeal has been blocked. The case history is examined of Ruth, a born and bred New Zealander denied the "Universal Pension" because, in the eyes of the law, she married the wrong man.
Deviousness, dishonesty and a culture of deception are exposed, pointing to malfeasance at high levels of government.
In the face of bureaucratic stone-walling and political indifference, NZ Pension Abuse remains committed to publishing the truth about New Zealand's retirement policies for the world to see, and to alert intending immigrants and Kiwis returning from working overseas of the dishonest and unfair treatment in store for them in this otherwise beautiful country.
At a Glance
Under section 70 of the Social Security Act (the direct deduction policy), the NZ Government is currently appropriating the overseas retirement savings of 70,000 retirees.
Section 70 provides the NZ Government income amounting to around $250 million a year. This revenue assists, indirectly, funding the pensions of New Zealand's long-serving politicians and public servants.
Because of its internationally unacceptable retirement policies, nations around the world have refused to consider social security arrangements with New Zealand. New Zealand has social security agreements with only 8 other countries, each agreement seriously flawed.
Some nations (e.g. Canada) have repeatedly requested the NZ Government to cease applying section 70 to their second-tier contributory pensions. The attitude of NZ authorities in response has been "It's an internal affair - mind your own business."
A major review of New Zealand's retirement policies was submitted to Parliament, recommending urgent pension reforms. These recommendations had the support of all government departments.
Cabinet Ministers however rejected the recommendations, falsified the review's contents, then went to extreme lengths to conceal the recommendations from opposition parties and the public - claiming that releasing the material would seriously endanger the nation's security.
In January 2010, Parliament finally approved financial improvements for retired immigrants and New Zealanders with overseas pensions - provided they left New Zealand to live permanently elsewhere.
All photographs on this website are under copyright and may not be reproduced or copied without permission from NZ Pension Abuse.
© 2013 NZPENSIONABUSE.ORG