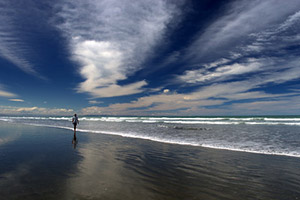 Pension Equality
The NZ overseas pension-deduction dilemma - how it should be solved:
The EQUAL TREATMENT policy.

A short summary by P.M.W. van Bussel, advocate for pension-rights
Rheine, Germany, December 3rd, 2014.

Rules are meant to protect, not to abuse. Legislation should be implemented and maintained to protect the rights of all. This means that legislation should help protect the government (and ultimately the taxpayer) from those who want to abuse the system but, at the same time, legislation should protect that same taxpayer from abuse by errant government (officials).

There's nothing wrong with making rules to keep "the system" safe for all but there's something very wrong with a bunch of officials pushing a self-made version of what they consider to be natural justice.

The Ministry of Social Development has encouraged the government to discriminate against migrants and their spouses many years after their arrival in New Zealand. The overseas pensions accrued by immigrants are being exploited. The Ministry explains the "direct deduction" principle to be an equitable outcome, but there is no equity or equality in denying some New Zealanders their NZ pension using the flimsy reasoning that they are not allowed to have more pension than a "lifelong" New Zealander.

In the political spectrum New Zealand Superannuation (NZS) is claimed to be free of asset and income tests - a simple universal pension paid at the same rate (*1) to all qualifying individuals as a personal right. (*1) NZS is paid at four differential rates 1) Single - Living Alone 2) Single - Sharing accommodation 3) Married with qualifying partner 4) NQS Married rate - with non-qualified partner included. Although the four rates of NZS are differential all clients of each rate are said to be paid on a "same as" basis.

In practice, the direct deduction policy (Section 70 Social Security Act) makes a mockery of this universal pension principle with thousands of married pensioners being paid different amounts of NZS dependent on either their marriage to a foreigner and/or the existence of some form of foreign pension. Single (unmarried) pensioners have fewer pension-problems but cannot escape section 70's claw-back abuse.

The legislation itself (the rules) has been transformed from a top-up policy in 1936 (where one's pension income would be at least as much as the full rate of NZS) to a top-down policy today (where overseas pensions are being exploited with the result that a promised access to a New Zealand pension can be denied).

In 1936 the legislation meant that the pensioner would have at least as much pension as a New Zealander; for years now the legislation is being used to bring pension income down to and possibly under that minimum guarantee that the state has always been promising - all this in favour of the NZ government with the illgotten gains being credited to the NZ Superannuation fund.

Underpayments of NZS occur when the full deductibility of an overseas pension is wrongly determined as is the case of Canada Pension Plan (CPP) and Quebec Pension Plan (QPP) and many other contributory (*2) pensions. (*2) The Chief Executive of MSD has determined that many first and second tier overseas pensions can be considered analogous to NZS and are thus fully deductible.

Of particular concern is the "spousal undercut", a truly unfair mechanism of section 70 legislation that ignores the individual's personal right to their NZS and allows the government to also deduct overseas pensions from a spouse's NZS. The result is that life-long New Zealanders are having their NZS reduced because they married or have a relationship with someone from abroad. New Zealand is the ONLY country in the world that allows legal pension abatement due to marriage or civil union partnership with a migrant.

The shame of this exploitation is huge but MSD doesn't care - it's all in a day's work to cheat and lie and provide twisted fabrications in order to convince our politicians and select committee members that it would be manifestly unfair if an immigrant were to have more than one pension, that it would disadvantage other New Zealanders if migrants have more pension than a "life-long-New Zealander".

One of my fellow advocates recently explained it as follows: "Over the years, MSD has perfected a finelyhoned strategy to convince the public, our politicians and select committees that persons who have worked in other countries should not be permitted to receive both an overseas benefit and the NZ pension as this would put them at an advantage over New Zealanders who have not had the opportunity to work outside New Zealand. MSD then goes on to justify its deduction of overseas pensions from NZ Super: 'The Direct Deduction Policy applied to NZ Super of overseas retirement benefits ensures that every person eligible for superannuation receives the same level of government support.'"

The term "government support" is, of course, quite obscure but MSD are milking this definition to include any "government administered" overseas retirement pensions that are often fully funded from personal and employer contributions with no government (read general taxpayer) funding involved. Canada Pension Plan (an overseas scheme similar to Kiwisaver in many ways) is a prime example of how a supplementary or contributory pension is re-branded by MSD as being "government support" and unfairly deducted from NZS payments by New Zealand.

These contrived flimsy arguments which are based on envy, jealousy and a misguided sense of social engineering are fast becoming popular methods to criminalise migrants who are supposedly abusing the system and are taking advantage of New Zealand's generous (?) pension system.

But the debate about section 70 problems is also disturbed by some people who insist that specific ethnic groups are abusing NZ's pension policy by importing and/or sponsoring elderly family members to come and "take advantage" of the ten year NZS qualification criteria. This nonsense is inherently racist.

Other unhelpful comments regarding Australian migrants being able to export their pensions and live in NZ without fearing a direct deduction exhibit pure ignorance about the reality of how it all works. It's also really unhelpful to make migrants look bad when you are trying to solve a problem that affects migrants and/or their spouses.

To criminalise many long term permanent residents and naturalised citizens of NZ who have contributed long and worthy years of economic prosperity to this "immigrant" destination is manifestly unfair.

If someone has lived and worked in New Zealand for thirty or forty years, they must not be unfairly treated just because of an unproven perception that recent migrant movements are badly engineered i.e. abusive of New Zealand's pension system.

If there is an immigration policy that is not working in New Zealand's interest, then it must be addressed at the Ministry of Immigration, at the right desk with the right person in charge. Please don't make it part of the section 70 discussion because you will always undermine the very cause that you supposedly seek to resolve.


Solutions:
I was asked recently for my option of how to fix these Section 70 issues. In my opinion, it's not hard to fix as long as you stick to the basic principles of honesty and fairness. Below, I will quickly explain what I think to be the five-condition protocol that is needed to remove many of the section-70 injustices.
Stability. NZS needs to be given the true status of a non-means-tested pension. This requires a concept of irreversibility i.e. that NZS be safeguarded against tinkering and ad-hoc modification that does not carry at least 75% of a democratic majority in our NZ Parliament. Currently, some "advisors" are calling for changes which will degrade the NZS into a benefit for the needy - an income- and asset-tested benefit. This must not be allowed to happen during the reign of a (future) "pension-unfriendly" government. A high degree of required consensus for change will safeguard the current NZS against erosion and manipulation. Some people will say that we already have a "Superannuation Accord" but the current "Accord" can easily be cancelled by a one-party majority government. It's not an unthinkable scenario and I warn you for it.


Compatability. The differential rates of NZS need to be maintained in such a way that the "living situation" criteria (which many other western countries also apply) continue to match many overseas pension principles. This will keep NZS compatible with many overseas pension schemes (*3). This will also contribute to New Zealand being able to successfully negotiate new Social Security Agreements to protect the rights of cross-border migrants and New Zealanders who move abroad. (*3) Many overseas pensions recognise the importance of rates of pension that are connected to living circumstances e.g. that married couples achieve better economies of scale in terms of living costs - the main reason why differential rates exist.


Evidence test: The necessary residence/work-history to qualify for NZ Superannuation will need to be proven(*4) by every applicant (not just easy-to-identify migrants) with time spent overseas leading to a discounted pension at the rate 1/540th for every full month of absence (rounding down the cumulative sum of periods of absence to full months) (*5). (*4) Proven to a credible degree by employment references or witness statements in the absence of hard official evidence (*5) Months of absence from NZ related to volunteer service abroad, missionary work, military service or refugee timeframes should qualify for an exclusion from this discount.


Proportionality: All qualifying periods of New Zealand residence between the ages of 20 and 65 should result in a proportional New Zealand Superannuation based on 1/540th of the (differential) rates per month (45 year system). As long as this is not income-tested, this proportionality also enables New Zealand to successfully negotiate Social Security Agreements. For the qualified Superannuitant, no discount should be applied for any element of any overseas pension or spouse's overseas pension.


Transitional: New Zealand Superannuation should always include a backup-up principle that allocates a discretionary authority to the Ministry to top-up the above-described proportional NZS to a standard full-rate NZS in circumstances where any "absence" causes hardship.(*6) (*6) This transitional or hardship proviso should guarantee at least the relevant maximum rate of NZS where frozen or non-existent or denied overseas pensions do not "make up" the difference between proportional and standard NZS. Think of refugees who cannot be "blamed" for missing out on a pension for their time overseas. Think also of people who fail to meet waiting times or nationality requirements for pensions paid by other countries. Think also of tens of thousands of UK migrants whose pensions are "frozen" (non-indexed).
Summary of Proposal
The above described proportional NZS treats all applicants the same - the equal treatment principle - and does not strive to push incomes down so that only some people end up paying a very heavy price for their absence from NZ. I think that this "equal treatment" solution will remove most or all of the anomalies that exist under the current top-down section 70 abuse that is currently applied to migrants and their spouses.
The idea that has long existed in my mind is that you cannot call something equitable if it leads to large disparities in the way that people experience its effect. My proposal does not distinguish between migrants or any other lifelong resident of New Zealand in that everyone will be treated "the same" (from application to payments to legal rights) without a view to creating a ridiculous "equal income" limit.
My proposal recognises all periods of contribution to New Zealand as worthy of reward with or in an agepension. It does not ignore absence from New Zealand but allows discretion and exemptions to cater for special cases. This proposal removes the spousal undercut problem because each person is tested individually rather than as a couple - again, equal treatment must prevail.
My proposal will result in different pension incomes but such is the nature of life - just look at your current wage packet and ask yourself why other people get more or less. It's a fact of life that we all have different incomes, so, I don't have much patience with officials who are trying to inflict a limited/fixed-income/sameincome policy on migrants and their spouses.
I believe my proposal can save the government the same amount or more than the amount that is extracted from migrants and their spouses now under section 70. In other words, the equal treatment of all applicants for NZS will result in discounts to a larger section of the population who currently simply don't get investigated. In other words, the savings will come from many rather than from a few.
My proposal is not all-encompassing and there will need to be further research and legal work done before it can be considered for discussion in a transparent and public discussion document. I decry the criminalisation of long term migrants and their spouses as being double dippers and greedy abusers and I sincerely hope that we can steer the discussion back to the pension and equity principles at stake.
We don't have to abuse immigrants to help fund our NZS system! I look forward to any criticism or comment on this proposal and I encourage vigorous debate.
Kindest regards,
Peter van Bussel
© 2013 NZPENSIONABUSE.ORG